Company Infomation
HEAD OFFICE& FACTORY 2
22-12, Seobu-ro 1499beon-gil,Juchon-myeon,Gimhae-si,Gyeongsangnam-do,Korea
TEL : 82 55-313-2123~6
FAX : 82 55-313-2122
FACTORY 1
23, Geumgwan-daero 719beon-gil,Gimhae-si, Gyeongsangnam-do,Korea
SEOUL OFFICE
SK HUB GREEN Studio Apartment Number 1410,73,Mapo-daero, Mapo-gu, Seoul,Korea
TEL : 82 2-2130-3020
FAX : 82 2-2130-3021
SALES CORPORATION
469-1, Yeosun-ro, Yulchon-myeon, Yeosu-si, Jeollanam-do,Korea
TEL : 82 61-691-2120~1
FAX : 82 61-691-2122
2016
Inaugurated as chairman of the INNOBIZ Association for Gyeongsangnam-do Province

Awarded with 'Certificate of Qualification' from KEPCO(Korea Electric Power Corporation) in recognition of quality, reliability and customer satisfaction in Industrial Valves
2015
Awarded with a presidential commendation in recognition of the development of Ram piston valve
2014

2013

Succeeded in domestically producing Change over valves [Supplied to Russia]
Developed Self lapping valve

2012

Registered in Hitachi [Japan] as vendor

2011

Registered TOTAL ENGINEERING Co., Ltd. as a legal entity

2008

Opened Seoul Branch Office
Obtained PATENT for Bonnet type Long plate Knife gate valve

1992

Established "TOTAL ENGINEERING" for manufacture, sale and development of special valve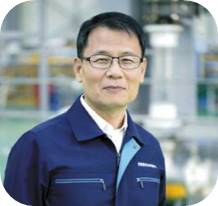 Hae Jin, Sung
President & CEO of TOTAL ENGINEERING
TOTAL ENGINEERING was launched in 1992 with the following management principles : Creativity, Respect, Trust and Best quality.
There were various valve manufactures in Korea, However, most of them were producing general valves and importing high quality special valves from overseas. In this respect, we, TOTAL ENGINEERING, saw opportunities to domestically design, develop and produce them for industrial applications and established manufacturing facilities.
We were primarily interested in manufacturing valves for petro chemical industry and have supplied our products to a number of customers at several petro chemical industrial sites. Since the end of 1994, we have been operating our own manufacturing plant located at Jangyu myun, Gimhae-si. Gyeongsangnam-do, Korea.